Everything you need to know
before you buy

a knee massager: CHECKLIST
There are many knee massagers out there ranging from $50 Amazon knockoffs...
To $300 devices that look straight out of a sci-fi movie.
Are they all the same?
Which ones work the best?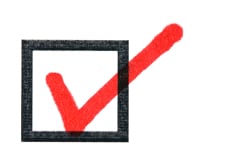 Read this article to get all the information you need to make an honest comparison, so you can make the right decision on your own.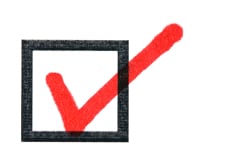 We share some tips on how to identify knockoff brands and dark marketing tactics like false claims, fake reviews or fake media articles using simple Google tricks.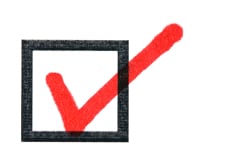 And if you're looking for the best knee massager from a reputable brand, we've got a deal for you at the end (it's our very own HeatPulse knee massager. Yes we're biased 😉)
Features, specs, and claims
First tip, look at the features and specs. Many knee massagers come with a whole host of features to help you treat your knee pain. But are they all legit?
Build and fit
The most important thing when purchasing a knee massager is, will it fit your knee? People come in all shapes and sizes, and creating a "one size fits all" product is difficult.
However, there are ways to design a product to fit a wide range of people. We found that using a flexible material and a buckle system helps to fit very tiny limbs as well as larger limbs.
If the knee massager is made of a material like hard plastic or if it's a fixed size sleeve, then most likely it only fits limited knee sizes.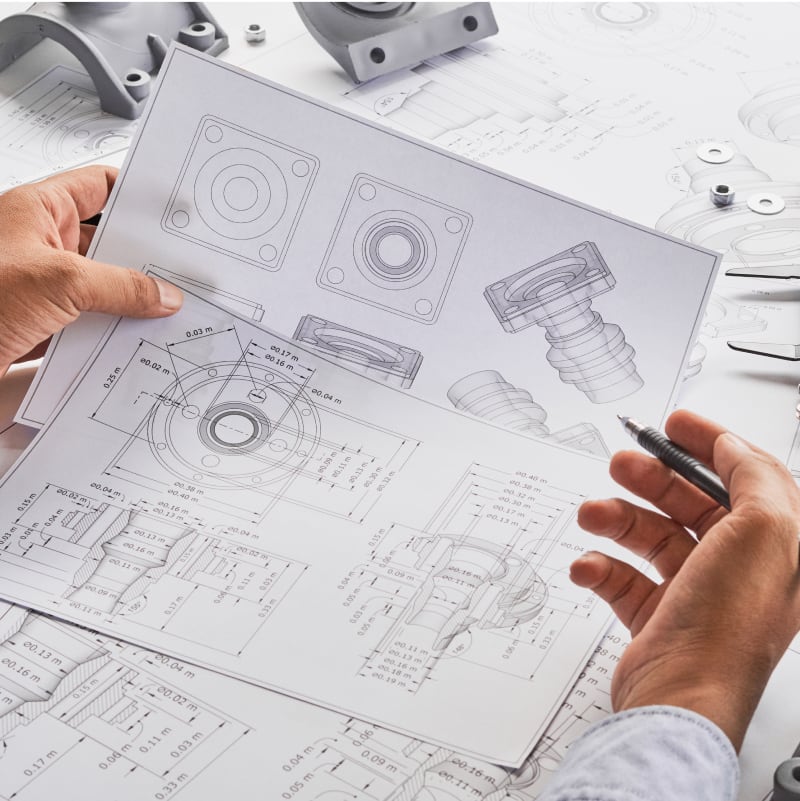 Battery life
You should also consider battery life. If there are too many features packed into a small device, the battery life likely wouldn't last more than a single use.
Check to see if they mention anything about battery life or how long the product lasts on a single charge.
If they do not mention it, they may be hiding something—which may not be a bad thing. It's just more of a hassle.
Lots of 5-star reviews with pictures must be a good thing right? Things may not always be as it seems. What if we told you that reviews can be faked? (gasp!)
Here's a test you can do to see if it's a real review or not using Google.
Test #1
First copy the review or part of it and put quotation marks on the front and back.
Example phrase: "I bought 2 of these massagers online while scrolling social media. It was an impulse buy."
Adding the quotation marks tells Google to search the exact phrase. You'll be able to see all the pages that have the exact phrasing.
*Note: this doesn't mean the review is fake on all the sites. It may be a legitimate review on one of the sites, but then it was stolen by other brands.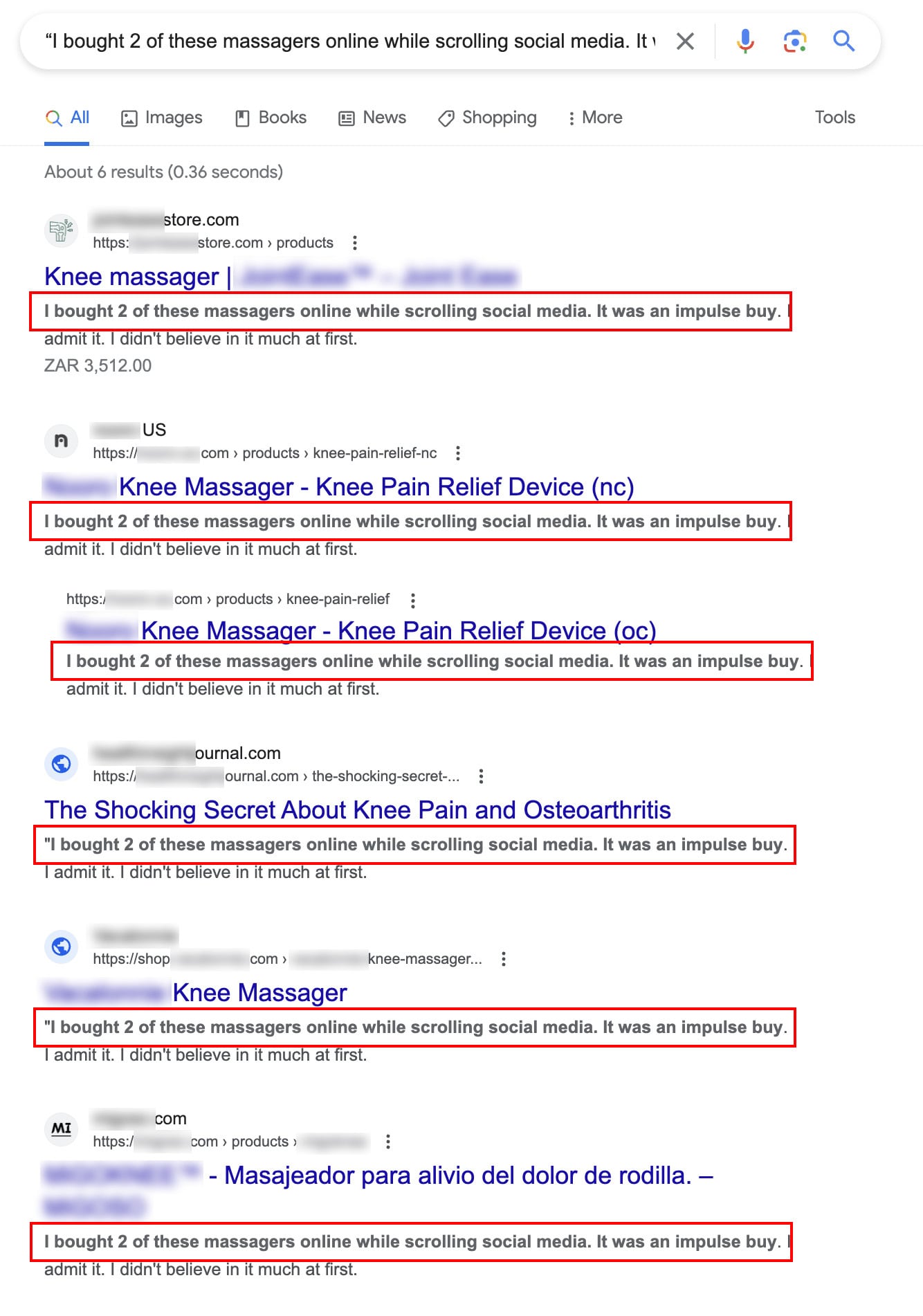 Test #2
You can look up where the images are being used on other websites. Right click the image and copy the image URL.
Go to images.google.com and click the Google Lens icon in the search bar next to the search icon. It will prompt you to upload an image or paste a link. Paste the image URL in it.
Then, above the image, click "Find image source" and you'll find all the websites with that image. This is not a 100% foolproof method but it works at times and you can find all the websites which use that image in their reviews.
*Again, it may not mean that the review is fake. They may be the original source and other websites have copied them (we've certainly been victims before).
But do your due diligence if there are too many red flags on a site—run!
BRAND A
BRAND B
Pressure tactics
Other than fake reviews, some brands employ shady marketing tactics in order to trick or pressure you into making a purchase.
Things like timers that start over every time you refresh the page. Or "limited-time discounts" that seem to be up indefinitely.
These are just some pressure tactics they use to make you feel that you're going to miss out on a very good deal.
Inconsistency
Another red flag is the inconsistency in their messaging. They might say they have over 10,000 customer reviews on one section, then you check and they have barely 200 reviews.
Or, they may say they have 100,000 customers in one section and then a different number in another section. Inconsistency is a red flag because you know that their information is not accurate or updated.
Mistakes do happen, of course but if it happens too often then you should be wary.
Note: The images below are all from the same page.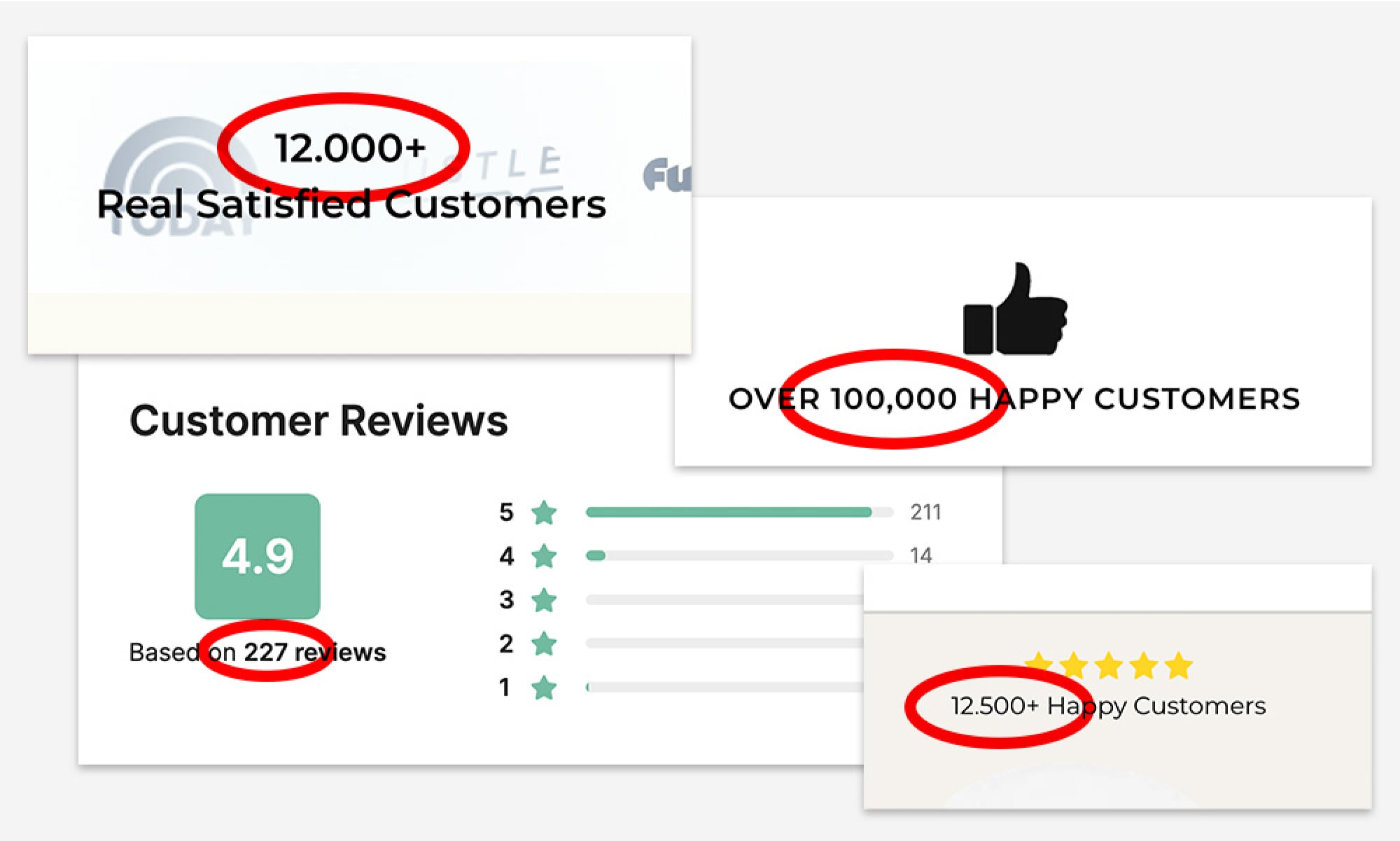 Extremely long shipping times
Finally, many of these knockoff brands actually ship from the same supplier. They're just middlemen who process your order and send the order to another company to fulfill.
After collecting your money, they wash their hands off the customer. It's now up to some random company to deal with them.
This process is commonly known as dropshipping.
The best way to identify these types of brands is to see where the items are being shipped from. A warning sign is the shipping time. If the product takes more than a month to arrive, you know that most likely it's being dropshipped.
Some brands will tell you that orders will be "processed" in 1-2 days. It may be processed in 1-2 days, but take months to reach you.
Similar creatives and images used
One last red flag to look out for is the images. Are their images the same as other similar brands selling the same products? This doesn't mean that they are knockoffs right off the bat—sometimes they are the ones who shot the photos and other brands steal it (happened to us many times).
Knockoff brands tend to steal images or creatives from other brands and just edit a couple of things like the logo or color to reflect the changes they made on their products. You can tell by the poor photoshopping artifacts or just by the date of the image uploaded.
While it's not necessarily proof that they are not legitimate, it might be a sign of a "fly by night" company and there's no real team behind the brand. Be wary.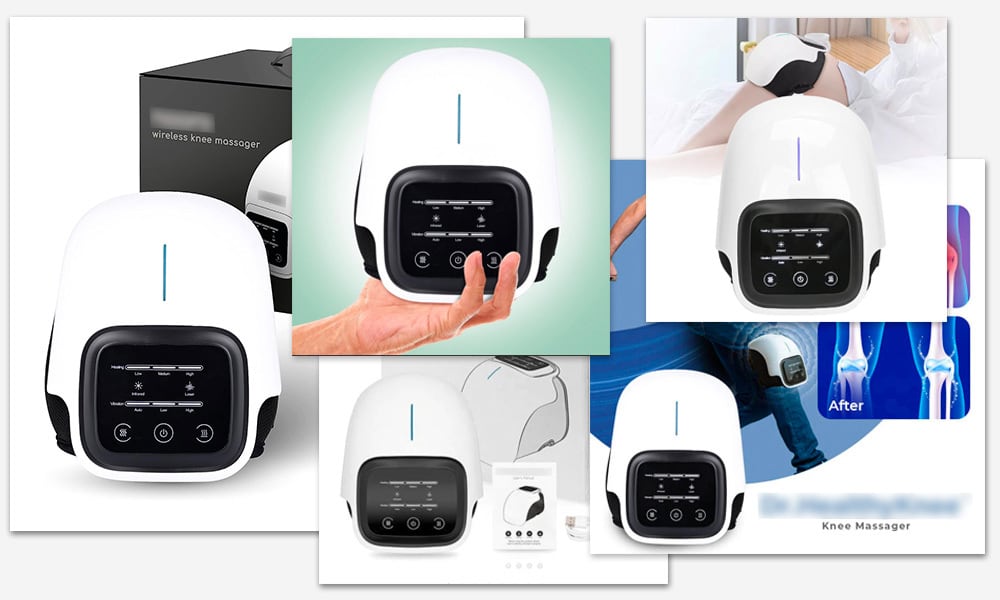 Once again, here's the checklist before picking the best knee massager:
Essential and proven therapy modes (heat, vibration, compression)
Is it built for a wide range of joint sizes?
Do they mention battery life?
Are the reviews legitimate?
If there are duplicates, which review was posted first?
Do they use the same images as other reviews on other brands?
Do they use fake pressure tactics?
Is their messaging consistent?
How long is their shipping duration? (not processing time)
Are their creatives original or did they steal them?
Note: These red flags should be taken into consideration as a cluster and any individual item does not mean that the company or brand is not reputable or selling a knockoff/duplicate.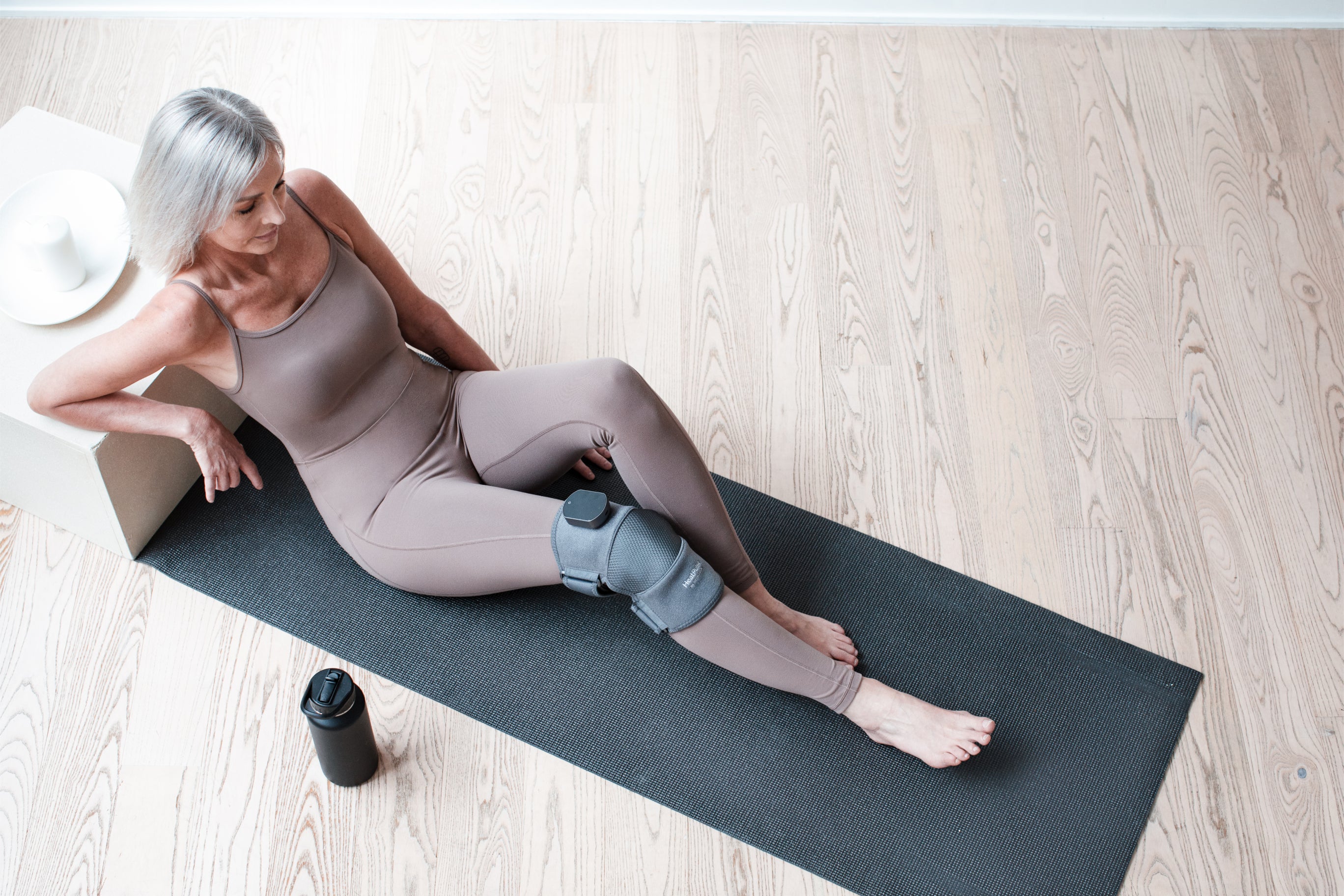 Get the best and most effective knee massager from a reputable brand
If you're unsure of which knee massager to get, we've got the perfect choice for you.
The HeatPulse by Hydragun is the #1 knee massager on the market.
Our in-house product design team spent months and countless meetings designing the perfect knee massager to fit a wide range of limb sizes with our unique buckle design.
Not only that, our HeatPulse knee massager is the hottest on the market—going up to 70°C (158°F) for more effective treatment.
Finally, we worked directly with the manufacturers to upgrade our battery with a high capacity: 2,600 mAh to last 3-6 uses per charge. So no more battery worries.
The reviews on our website are all from verified customers and we go through each and every one of them to match it to a real customer purchase email.
All HeatPulses are shipped from our warehouses all over the world. We have warehouses in Singapore, Australia, United States, Canada, and South Korea and we ship from the closest one to you. That's how we get your order to you within a week. And also how we keep the price as low as possible.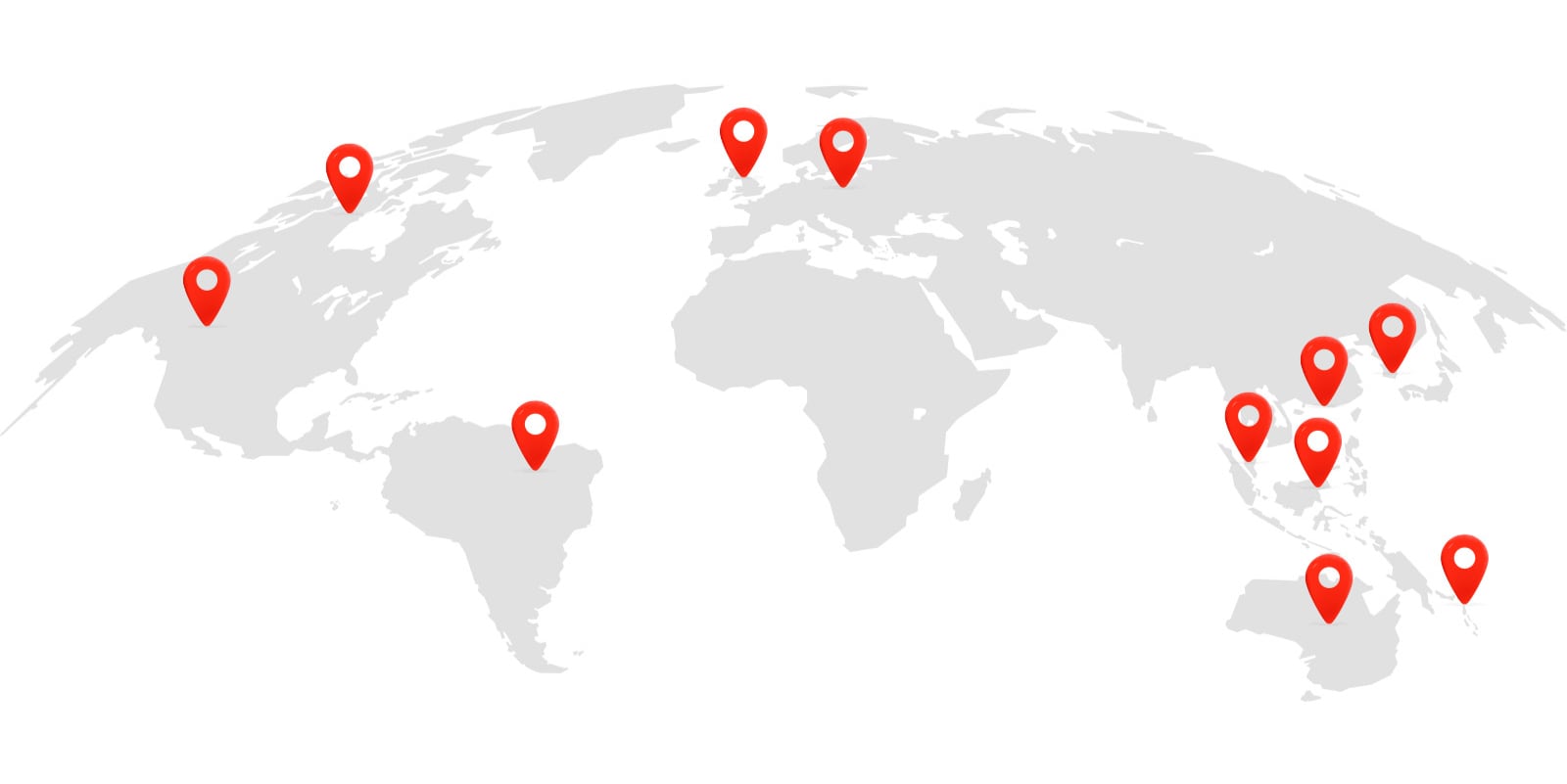 And we are constantly expanding our operations to ensure you get your purchase in less than a week. We do this because we know how important it is for you to treat your knee pain as soon as possible at an affordable price. That's why the HeatPulse Knee Massager costs $100+ LESS than some of the most popular brands online.
All purchases come with a 30-day free returns. No hidden fees.
And 1.5-year international warranty so you can have peace of mind when you try the HeatPulse.
So try the HeatPulse today risk-free. Only US$169.
If you buy today, you'll save an extra $25 with our 11.11 Sale. Enter promo code 1111SALE to claim this discount for a limited time.
If you buy today, you'll save an extra $25 with our Black Friday Sale. Enter promo code BLACKFRIDAY to claim this discount while stocks last.
If you buy today, you'll save an extra $25 with our Cyber Monday Sale. Enter promo code CYBERMONDAY to claim this discount while stocks last.
Our friendly customer service team is available to help you out within 24 hours if you have any questions (live chat or email).
Check HeatPulse Availability